bodies-archive
"Memory as a pathway to discovering who one is, or equally what one's art might be" Ian Farr
Today is different from yesterday. But today remembers yesterday. Without yesterday there is no 'today'. Today is today with a taste of yesterday. Tomorrow is tomorrow with a taste of today and yesterday.

The body is of the present; it is alive. The archive refers to the past; it keeps track of time. The archive is of the present; you see the archive now. The body is of the past; your body remembers and is built upon the past.

The dancer's body trains and rehearses daily to be able to physically embody a choreographic work. It has to remember the previous day. Its job is to remember. It is disciplined in order to recall a work, a step at any moment. It is a bit different everyday while trying to remain the same.

Its video-capture gives an idea of what it was before. Its presence gives an idea of what it is today. Its presence and video-captures give an idea of what it is today in relation to what it was yesterday. Both witness the traces left by experiences, and remind the spectator of the ones that have been forgotten.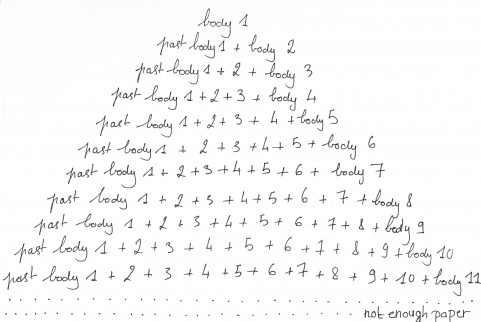 BODY IN MOVEMENT

<=>

DOCUMENT-MEMORY


DIFFERENCE AND REPETITION

=>

CHANGE




DOCUMENT

=>

DIFFERENCE AND REPETITION